Risks of children exposed to sexual violence on Omegle

Omegle's tagline is self-explanatory; people visit the site to "Talk to Strangers."
Two checked boxes are the only barrier between children and Omegle's chat rooms filled with strangers who can seemingly do whatever they want. One check box signals the user is 18+, the other acknowledges the user has reviewed and agreed to Omegle's Terms of Service, Privacy Policy, and Community Guidelines. Neither of these check boxes stop someone younger than 18 from entering the website.
Users can enter text chats or video chats that combine video and chat functions. Omegle doesn't ask for any identifying information from users who enter these chat rooms.
On average over the past year, Cybertip.ca - Canada's tipline for reporting the online sexual exploitation of children operated by the Canadian Centre for Child Protection (C3P) - receives a report about Omegle every two days1. Compared to 2021-222, reports have risen by 122%; compared to 2018-193, reports have increased by 397%.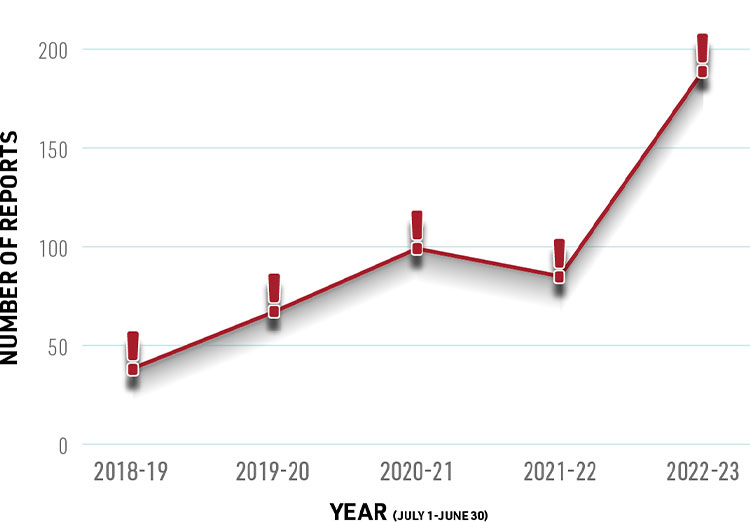 In a recent Cybertip.ca Alert, we noted that:
Of the 180+ reports, 120+ involved concerns about someone talking with a child for a sexual purpose through Omegle. The remaining 60 reports were about users allegedly sharing child sexual abuse material through the platform.
Several reports said that Omegle users requested and obtained information to connect with the child outside of Omegle, like their social media username or phone number. It appears users are meeting children on Omegle then moving the conversation to a different platform, which is a practice we commonly see in sextortion4 cases.

What risks should parents know about?

Exposure to harmful content

Omegle notes that "Video is monitored," but does not give any more information about what it monitors, how it monitors, or its moderation processes on its website. Users can choose to enter the "Unmoderated section" if they check a box, acknowledging this portion of the website is unmoderated. Whether they're in the monitored or unmoderated section, users can be exposed to sexual content, like masturbation, or encouraged to sexually touch themselves.

Omegle displays ads for pornography websites, "cam sites"5, and other sexual services. Also, links to adult pornography can be sent by strangers in text and video chats. While visiting Omegle, C3P analysts were sent links to 18+ websites in text chats, shown an ad for a porn website through video chats, and encouraged to move to different platforms to "continue conversations."

Screen capture of a message sent to a C3P analyst while on Omegle.com.

Screen capture of a message sent to a C3P analyst while on Omegle.com.

Offenders targeting children

Like many other social media platforms and live streaming services, Omegle users have the opportunity to groom children and manipulate them into sharing private information and sending intimate images and videos. Any livestream can be screenshotted or recorded, putting children at risk of sextortion.

Lack of age verification

While Omegle introduced an 18+ age minimum to use their site 10 months ago6, children can access the website by clicking three buttons and saying they are over 18.

Omegle is a website and available on any device with a web browser, unlike an app in a mobile app store which may restrict downloads based on the age of the user.

Reporting restrictions

Users can report any sexual violence on Omegle to the site, but it's not easy to locate how. C3P analysts could not find buttons to report in any Omegle chat rooms.

To report, users need to visit the site's landing page and read through the Community Guidelines. In the fourth paragraph of the guidelines, users are directed to email safety@omegle.com and include "Omegle-Safety" in the subject line to report concerns. These instructions are followed by the statement that "While Omegle is not responsible to you as a user for enforcing these Community Guidelines, reports of violations are helpful to Omegle."

Omegle does state they ban users temporarily or permanently if they are inappropriate or harmful, but C3P analysts could not find details on the website about the process Omegle follows before banning users.

How can parents help?

Block the website from devices your child uses

Omegle is not intended for children and there are no parental control settings on Omegle that you could enable to make the site safe for children to use. You can block the website completely. These settings will be different for each browser, but steps can be found here.

Talk to your kids about the risks online:

Omegle has a minimum age requirement of 18 years old, and does not have safety features intended to protect children from seeing sexual or violent content.
Video chatting can be dangerous - anyone watching can record you without you knowing. For tips on getting the conversation started around chatting online, visit the risks page on ProtectKidsOnline.ca™.

Encourage your kids to talk to you about weird or uncomfortable situations they encounter online. Emphasize that it is never too late to come to you for help, even if they feel like they've done something wrong, are embarrassed, or ashamed.